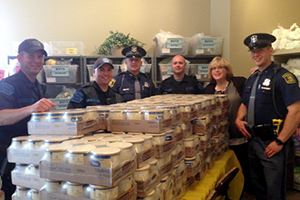 A theft that began from a Walmart distribution dock in Mississippi and ended in Wixom with an arrest by the Michigan State Police 1st District Hometown Security Team, brought formula to babies in four Michigan counties.
Pat Sager, Executive Director of Birthline Pregnancy & Parenting Center in Jackson said she was notified that the team had confiscated stolen property of over 2100 cans of infant formula on its way to being sold to ISIS fighters overseas for high protein. Pat contacted 10 Pregnancy Resource Centers in the four counties where these troupers are assigned to work the highways preventing drug, illegal and human trafficking; Washtenaw, Ingham, Monroe and Jackson to share this formula with them and their clients.
Pregnancy Resource Centers are life focused centers that are intent on providing compassionate care and meaningful service to moms and dads experiencing unplanned pregnancies or difficult times. We champion the lives of the smallest child and respond generously to the lives and lifetimes of clients that we serve.
Most Centers are supported by local donations. www.birthlinejackson.org Birthline@comcast.net